Carton Box Automatic Feeder Flexo Printer Slotter Die Cutter Machine / Corrugated Carton Box Packing Machine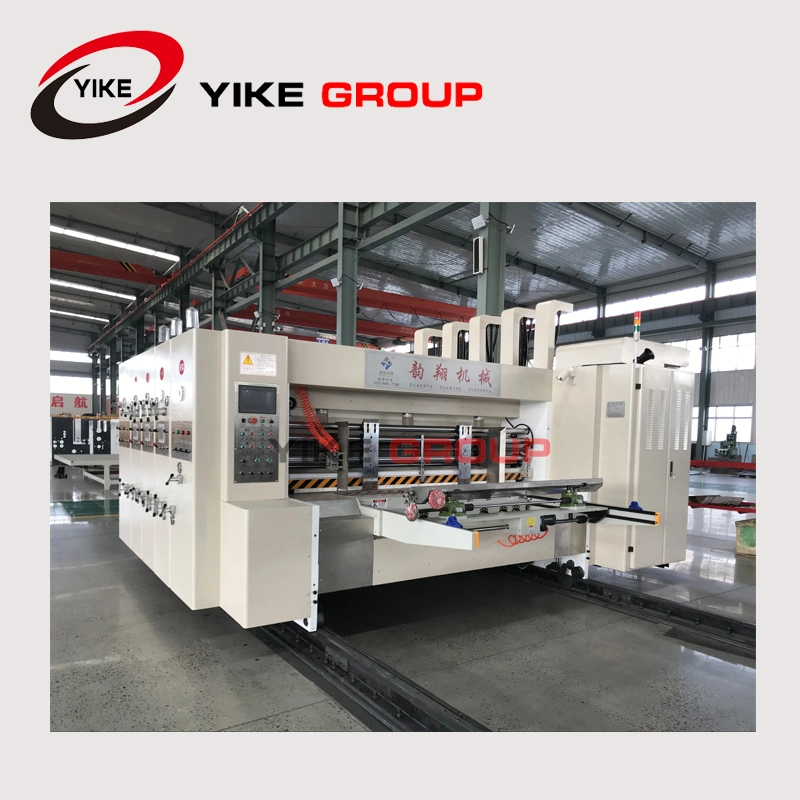 1. Feeder Unit
Lead-edge Feeding System
Lead-edge suction feeding system, easy operation, high accuracy,(adopts lead feeder system).

7.5KW high pressure centrifugal fans, according to the cardboard
warping degree of frequency control pressure, to ensure warp
cardboard or thin cardboard high-speed accurate transmission.
Left and right side baffle position electrically adjustable,
screw-driven.and can remember by computer.
Front baffle adjust the position of the upper and lower intervals
synchronization by manual.
Skip-feeding devices, could select skip-feeding according to needs. To ensure that large-scale cardboard can also be processed.

Install 7" touch screen, could automatically display the
production quantity, production speed, and set the production quantity and every operating.
Slotting part is equipped with the interlock switch, to achieve the
emergency stop, stop feeding or feeding.

Machine Separation & Combination
Button switches electrically control the separation and combination
of machine, with automatic alarm device, continuously alarm while moving, to ensure safety of operators.
Air pressure interlocks, lock securely, conveniently and accurately.

Machine clutch drive shaft is equipped with overload protection device.

Active self-locking function: if unit is not completely locking state,
the host cannot start, to ensure the safety of machine and operator;
while host normal working conditions, the unit clutch function is automatically lock, to avoid machine misuse and personal injury.
Dust-removal System
Adopt brush cleaning device, equipped with strong Negative pressure suction fan, clearing the dust, paper scrap or other waste, to improve printing quality.
Feeding Roller: double Feeding Roller
Upper feeding roll adopts outer diameter φ165mm rubber roller,
elastic buffer wear rubber (inside soft, outside hard), dynamic balance correction, to ensure smooth and accurate feeding.
Lower feeding roller adopts embossed rollers, hard chrome-plated, wear and smooth.

According to cardboard thickness, adopt worm gear box gap tuning, with locking device. Adjustment range 0-12mm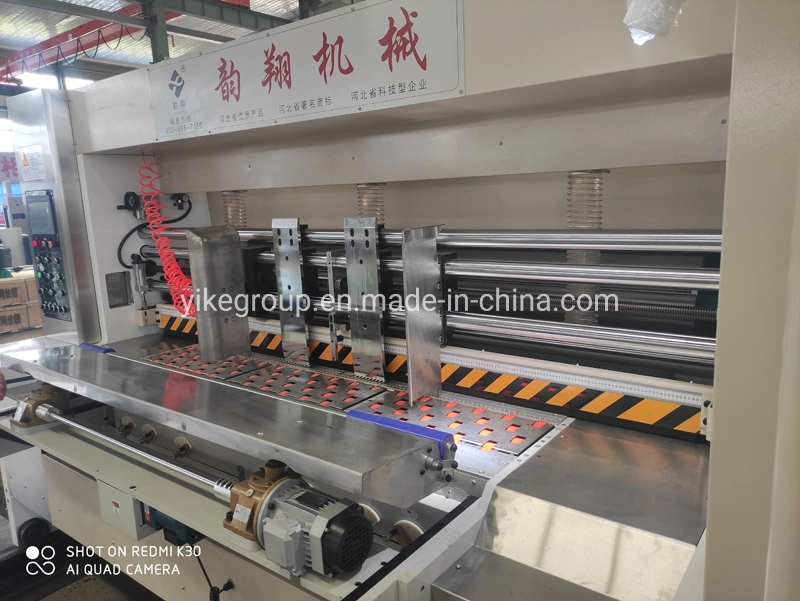 2.Printer Unit
Printing Roller
With printing plate

High quality steel production, surface grind

ed

, hard chromium

-

plat

ed. Static balance adjustment, stable operation, suitable for high speed running

Roller horizontal direction and circumferential direction

with

datum line, convenient for align plate

Fixed coil axis, suitable for standard hanging slats, realize rapid change plate

Electric 360° adjust printing roller,

automatic

digital display adjustment,remember store digital.

Installed with foot switch

to

control

plate roller

reversing, convenient change plate

Auto-zero function,order memory.

Printing roller plate-change and fix-plate function.

Printing roll axial is adjusted left and right by manual,maximum movement left and right 10mm,auto-zero instruction.
Pressing Roller
Adopt high quality seamless delicately processing, dynamic balance adjustment, stable operation

Surface grind

ed

, hard chromium

-

plated

Gear

adopt

backlash adjustment mechanism, adjustment no

ne-affect gear enunciation, guarantee transmission accuracy

Printing roller can be adjusted for a distance 0-12mm

pressing roller, feeding shaft can be adjusted by manual , and loose and tight the roller also by manual.
Anilox Roller
First Priner Unit:
Steel anilox roller, brand HAILI

Steel anilox roller

mesh:150-300 line
Rubber Roller
Rubber roller adopts Guangdong Jingyang.

Overrunning clutch and automatic idling device, to prevent the ink dried

Rubber roller drum type

middle part

high

er, to ensure ink quality

Rapid spaced spinner self-locking device, ensures uniform ink

Ink distributing roller independent drive mechanism, ensure

i

nk quality
Feeding Roller
Feeding roller four

wheels

feeding

Feeding roller gear

adopts

no-

side

-gap regulating mechanism, can adjust the interval of 12mm

Hand adjustable rapid clearance adjustment self-locking device, fast, reliable.
Ink System
Pneumatic diaphragm pump, simple operation, convenient maintenance, supply stability

Circulating pneumatic ink

Screen for filtering impurities, guarantee printing quality
Phase Adjust System
Planetary gear structure

Digital computer

360 °

adjustment,

both

running

and stopping state conditions

Printing phase adjustment of PLC computer display adjustment

After units separate, automatic reset system (eraser memory)
Phase Fix System
Pneumatic brake device

,

U

nit

s

eparation

and combination or phase adjustment, original point of transmission gear with constant
Zero Device
Auto-zero device, to ensure that the units have a uniform adjusted basis, reducing cardboard waste,edition memory function.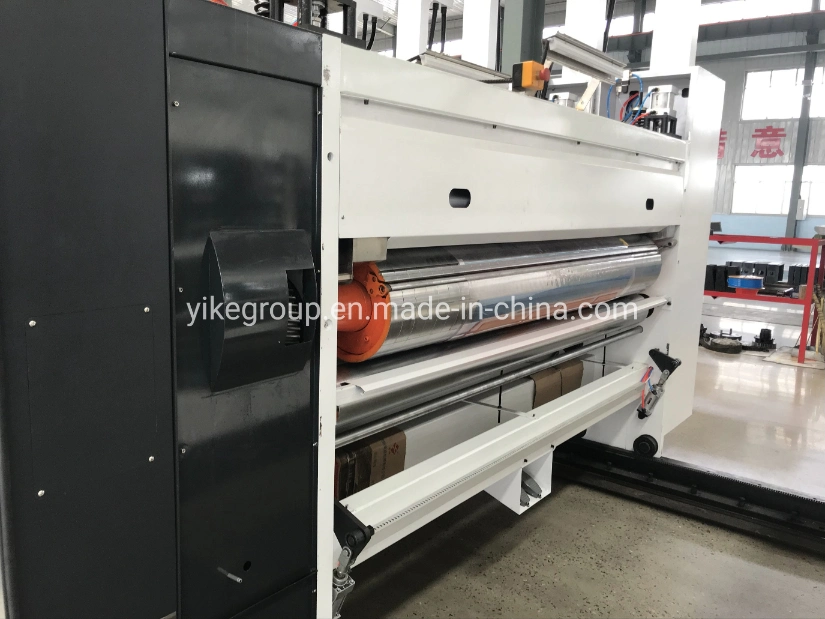 3.Slotting Unit

Single-axle double-knife slotter, use

Internal tooth structure

adjutment the height of box, So that oil does not easily contaminated cartons

The first pressure line round, after preloading cardboard not easily crush

The above press round

Urethane appearance package

,

will not damage the cardboard

The slotter knife stock use t

raverse mechanism

,

s

crew with linear guide

,

to move more flexible and precise

Slotting phase and box height,

computer and electric digital control

Preload, creasing gap adjustment adopt computer and electric digital control

The slotter knife stock

gap adjustment

adopt self-locking structure

There's the elastic corner-cutting knife. Can cut

three, five, cardboard

without adjusted.

Preload wheel, creas

wheel, slot knife traverse position

computer and electric digital control

The slotter knife adopt Anti-knife manner

Computer automatic arrange knife, can stockpile 999 memories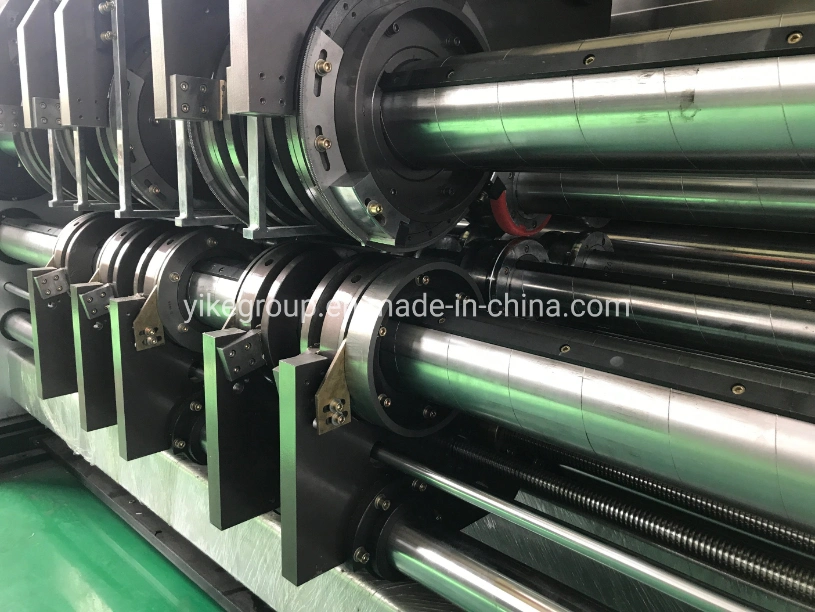 4.Die-cutting Unit
Rubber roller m

echanical spiral commutation

40mm move about horizontal structure

Die-cutter phase, computer and electric digital control

Horizontal phase, c

omputer and electric digital control, range ±5mm

Rubber roller and d

ie roll

er

gap

use c

omputer and electric digital control,

Adjust the transfer roller use c

omputer and electric digital control,

The rubber roller

compensated

by

motor-driven,control the speed of thr rubber roller, range ±3mm

Rubber roller h

siuping cutting

structure

, keep rubber surface roughness

Stripping the belt longitudinal output

,

to easy clean waste paper.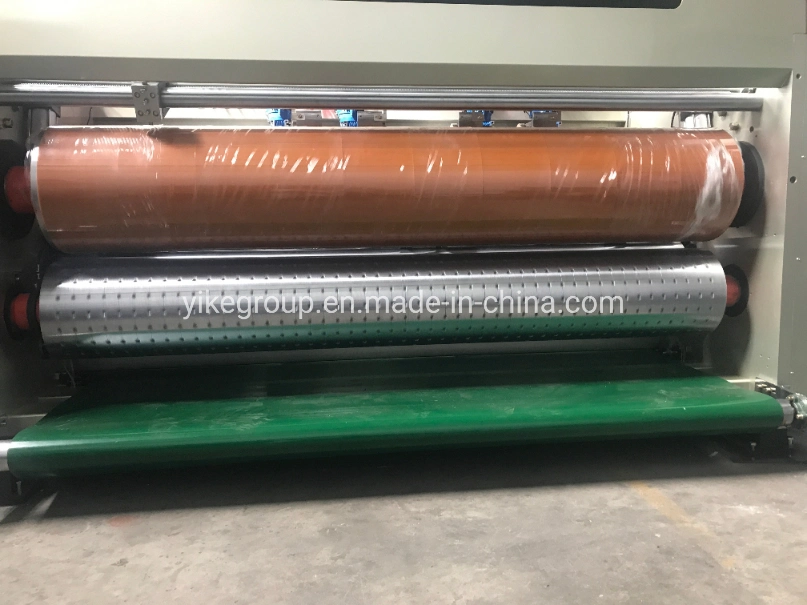 Factory