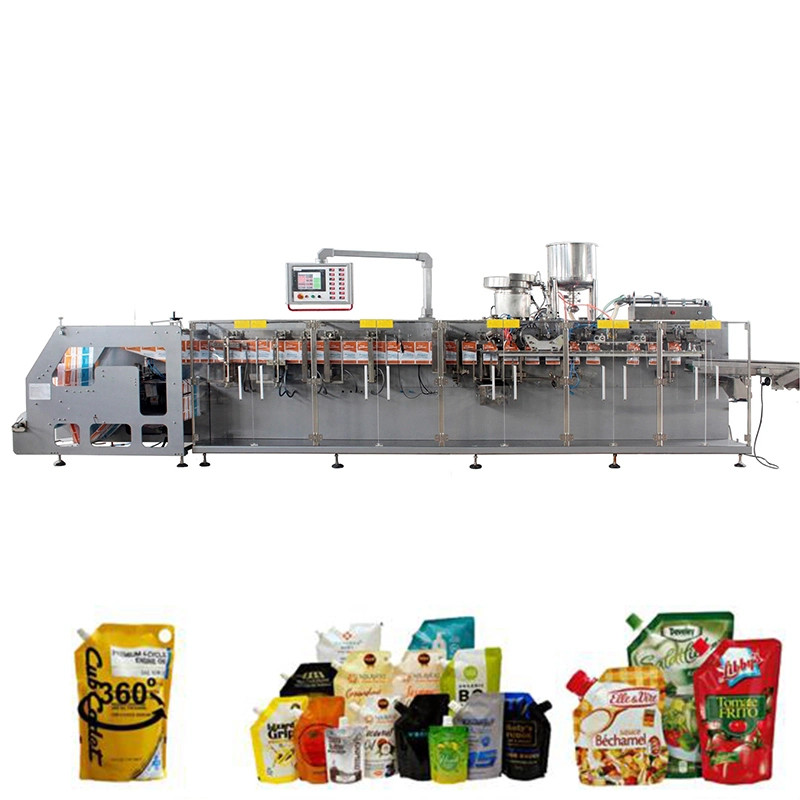 This machine is applicable for packing powder, granule, liquid in form of corner spout pouch, with different patterns of sealing, which include processes of flat pouch or stand up pouch forming, product dosing, filling, corner spout installation and sealing.
Issue

Application Description

Applicable Pouch

Corner spout flat pouches, corner spout stand up pouches, or other irregular shaped corner spout pouches.

Applicable Products

Configure with different dosing devices, capable to pack with liquid, powder or granule, such as juice, jam, ketchup, mayonnaise, baby puree, engine oil, motor oil, detergent etc.

Applicable Packaging

Material

Laminate Heat sealable packing materials such as OPP/PE, BOPP/OPP/PE, PET/AL /CPP etc.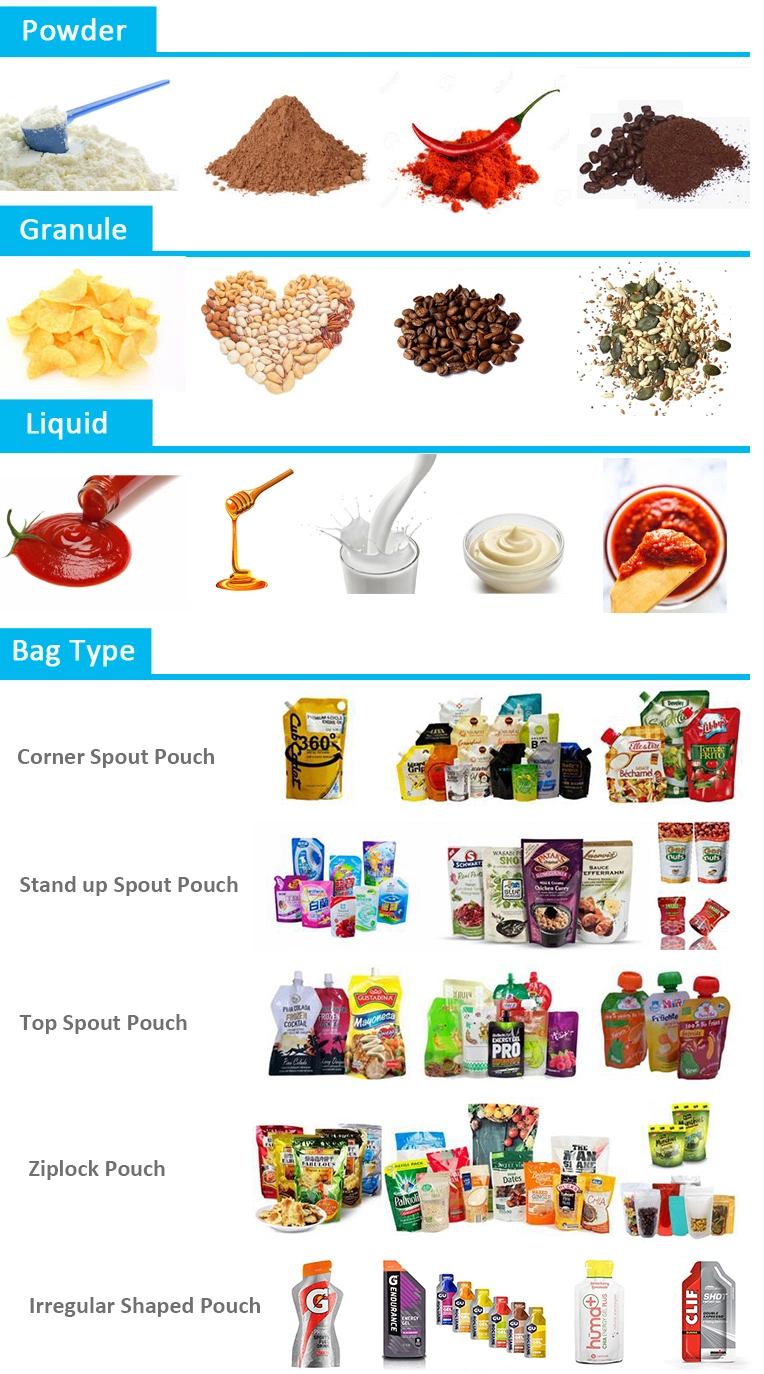 Film Unwinding Process





Note: the gusset hole punching process applies for stand-up pouch
Pouch Forming Process






Pouch Filling Sealing Process


Note:
1) The product filling process can be 1 to 4 station according to project requirement


Standard Features
1) Stand up pouch form fill, top spout installation and seal
2) Rigid carbon steel structure with plastic spraying process and covered by stainless steel 304
3) Anodic oxidation and/or harden aluminum for main movement beam and pouch holding bars
4) Stainless steel 304 for product touching parts
5) PLC & Touch Screen HMI Control
6) Intelligent PID temperature controller
7) Servo motor for film pre-pulling and bottom hole punching
8) Easy pouch length adjustment
9) Twice product filling, twice vertical sealing processes
10) Once pre-heating, three times pressurized heat sealing, once cold sealing, used for top spout installing and sealing
11) Pouch vacuum and mechanical opening
12) Vacuum system powered by vacuum pump with negative pressure tank
13) Individual pressure tank for different compress air supplies
14) Pouch not open completely, no fill and seal interlock
15) Central lubrication system for punching device and other key mechanical parts
16) Visual Protective Cover
17) Cold Embossing type coding



Optional Features

1) Flat top spout pouch
2) Irregular shaped top spout pouch
3) Stainless steel 316 for product touching parts
4) Automatic film offset correction system
5) Ribbon, inkjet or laser coding
6) Cold sealing with chiller
7) AB Control System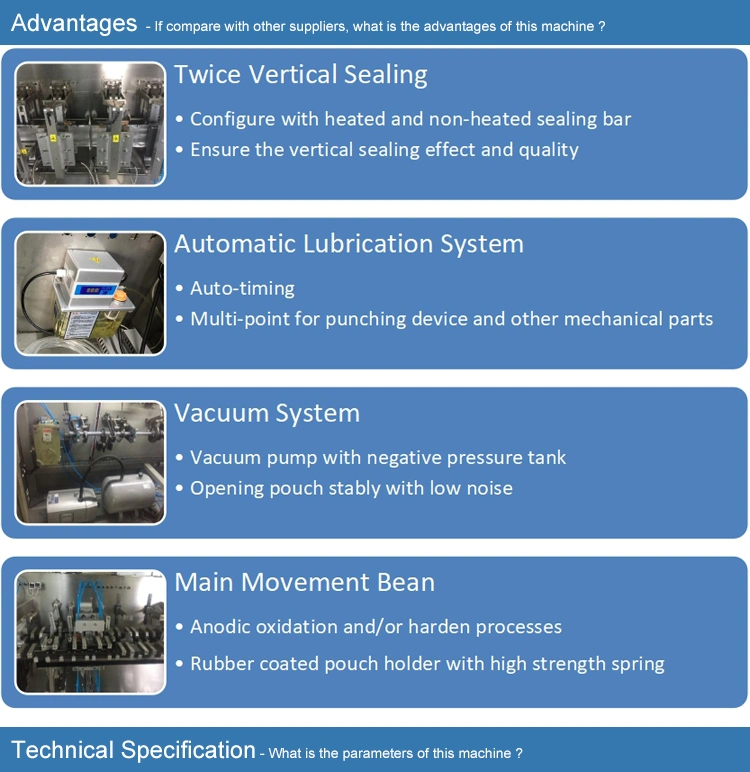 | | | |
| --- | --- | --- |
| Type 1G-xxxx | HMS-1600XC | HMS-3200XC |
| Packaging Speed | 35-45 pouches/min | 35-45 pouches/min |
| Lanes | 1 Pouch/cycle | 1 Pouches/cycle |
| Vertical Sealing Station | 2 | 2 |
| Pouch Size-Length | 100-270 mm | 100-400 mm |
| Pouch Size-Width | 80-160 mm | 80-250 mm |
| Film Pulling Driven | Servo Motor | Servo Motor |
| Power Consumption | 12 kw | 13 kw |
| Power Requirement | AC 380V 50/60HZ | AC 380V 50/60HZ |
| | | |
| --- | --- | --- |
| Type 1G-xxxx | HMS-1600DXC | HMS-3200DXC |
| Packaging Speed | 60-80 pouches/min | 60-80 pouches/min |
| Lanes | 2 Pouches/cycle | 2 Pouches/cycle |
| Vertical Sealing Station | 2 | 2 |
| Pouch Size-Length | 100-270 mm | 100-280 mm |
| Pouch Size-Width | 80 mm | 80-130 mm |
| Film Pulling Driven | Servo Motor | Servo Motor |
| Power Consumption | 13 kw | 14 kw |
| Power Requirement | AC 380V 50/60HZ | AC 380V 50/60HZ |